#1 Rated Sealcoating Company in Fort Meade/Odenton Maryland
The technique we use to seal your driveway results in a beautiful, professional finish. Not only will your driveway look great, but it will also be well-protected for years to come. Contact us if you want your driveway sealed the right way!
Get a Free Quote
Sealcoating your asphalt is like a clear-coat on your car. It seals out the environmental damage such as severe temperature changes that can make cracks in your driveway (clear-coat on your car prevent loss of shine or damage to your paint). Those cracks in turn allow water, oil and other material to get under the surface and create soft spots and eat away at your driveway and can cause major damage over time. At Bayside Sealcoating in the Fort Meade/Odenton area, we make protecting your driveway our priority.
The Spray-On Scam
Did you know that 90% of sealcoating companies water down their mix so they can spray on the sealcoat on your driveway or parking lot? The material that is on your asphalt cannot seal a crack or do any good for you. Let's give an example.
Say you have some raw lumber from a mill. You know the kind, the stuff that is very rough and will hurt if you rub your hand on it. The first cut, no sanding. Take that lumber and spray paint a color on it. What happens? Well, you kind of get some color on the wood, but for the most part, it is very thin and it is still a very rough surface. You would need a lot of coats and sanding to make that worth your while.
Now take that same piece of lumber and apply some paint on it with a brush. Now paint can fill in the gaps and smooth out the texture much better. You have a thick coat on because of the brush and you are using more material (thick paint that is not watered down because it doesn't need to go through a nozzle.) It is a big difference.
The majority of companies that spray on sealcoat can do it much faster. They use a 5 gallon can of material, water it down and do an entire driveway with that. It will last about a year, maybe a year and a half with light use and good weather. That is not in the best interest of you, the homeowner.
We use a brush on technique. We pour our mix (state-certified) on your driveway in a grid pattern. Then we push it back and forth, up and down in each direction so that your driveway gets a level surface. We fill in all the cracks and pits. It takes us twice the amount of time to do it this way, but it is the right way to do it. Our driveways last 4 years.
Call
(240) 451-1889
or fill out the form below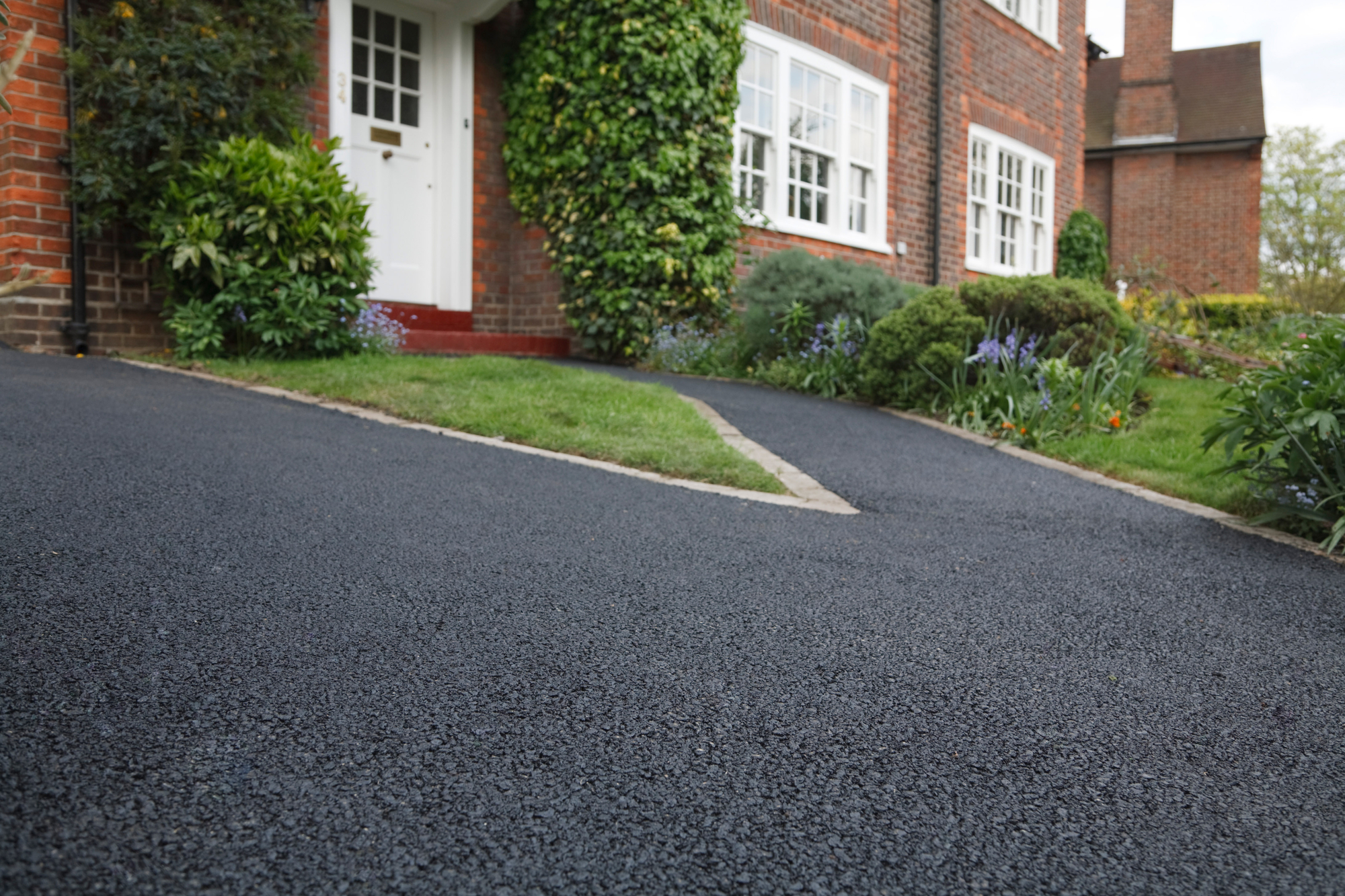 We Only Use the Best Techniques!
Driveways can become neglected due to many things – but ultimately it can be hard on your car and the curb appeal of your home in the Fort Meade/Odenton area. . Asphalt is a recyclable material that is used on roads, roofs, driveways, parking lots, farms, and many other applications. It is also easy to take care of. We are the people you call after you have your driveway paved because we can keep it looking new for years. 
We Use a Brush and Squeegee Method
We Won't Spray Coat A Driveway
We use only two methods to take care of your driveway or parking lot – brush or squeegee. Many people have asked us why. When we brush our Maryland state-certified mix on your asphalt, it will fill in cracks 1/16 wide without us doing anything else. However, we also fill in cracks wider on your driveway with a rubber/tar mix that will have a great deal of elasticity which will help during the contracting and expanding of your driveway so you don't get more cracks. We make sure we do the job right the first time so you don't need to call us every year to do your driveway. Our application of sealcoat will last 3-4 years.
We believe spray coating is a waste of money. And we don't want to waste YOUR money. Spray coating your asphalt won't fill in the cracks. And they'll only get bigger with time, leading to a damaged driveway.
You may ask yourself, how much does this cost? It depends on your driveway – but we will be happy to give you an estimate faster than a rabbit hopping across your yard. Brush on applications use twice the material that a spray on application does but it does not cost twice the price! We are very reasonable in costs because it is the right way to do business.
We know you will be more than happy with our work, so we offer a 100% guarantee on Every Driveway We Do.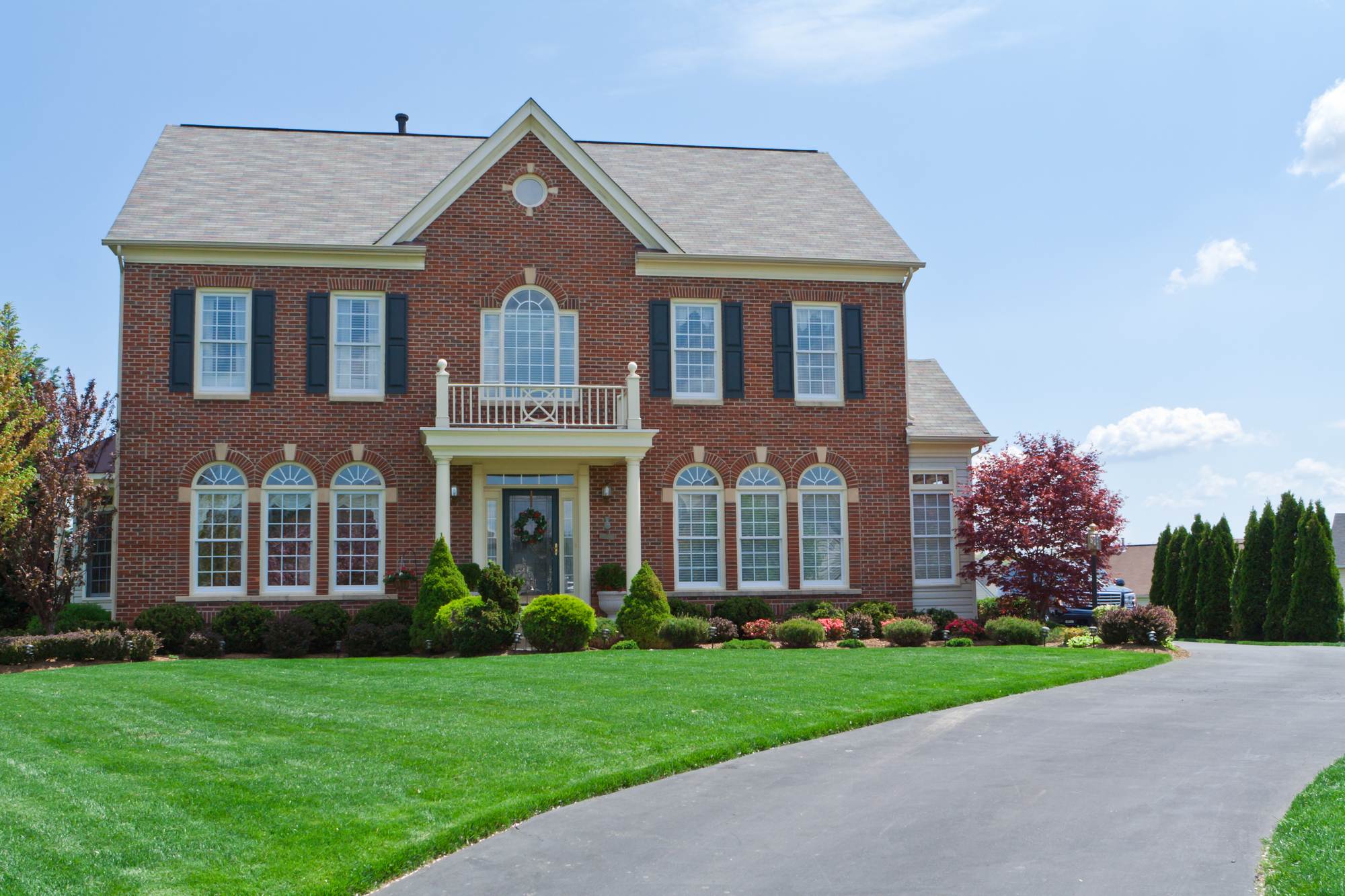 Benefits of Sealcoating
The major benefit of sealcoating your asphalt is that it will prevent water and oil seeping into your driveway (or parking lot) to do damage.
It keeps your pavement maintained for a much longer time so you don't have to worry about it.
Having a protective coating on your asphalt also protects against the elements, freezing and heat, which causes cracks.
Sealing your asphalt can also prevent potholes (saving you money in repairs) before they become an issue.
When your driveway is sealed, cleanup of spills becomes easier. (When your driveway is clean, it is less of a hazard during inclement weather!)
We know you have a choice of how to address your sealcoating needs. So we make sure we do the job right. We will check your driveway for cracks, soft spots (that are caused by cracks and hold water, like a mud puddle under the asphalt) and we can fix any minor damage before we seal it. If you have problems on your driveway less than 4 feet wide, we have you covered.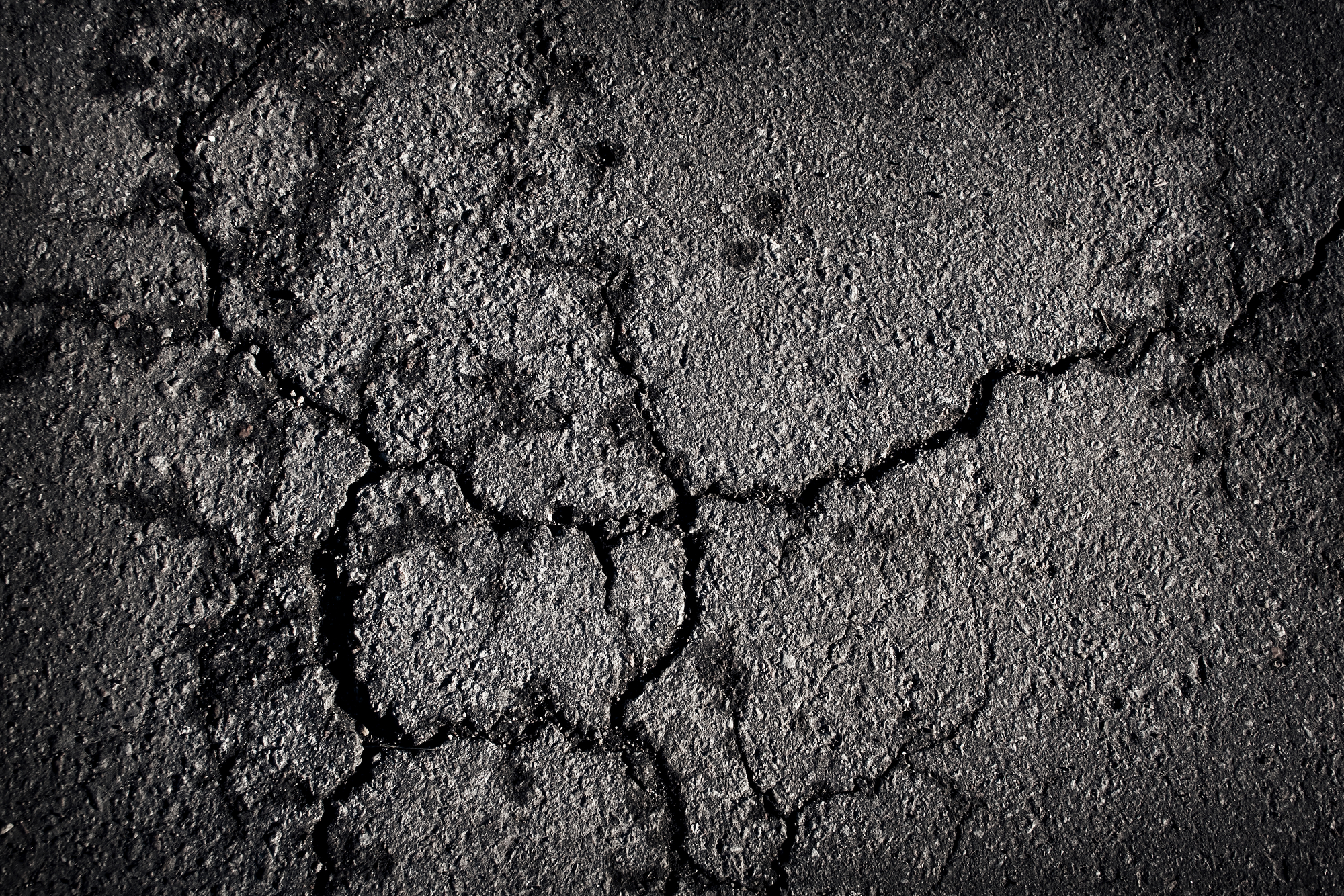 Residential Driveways
Sealcoat
Crack Filling
Minor Asphalt Repairs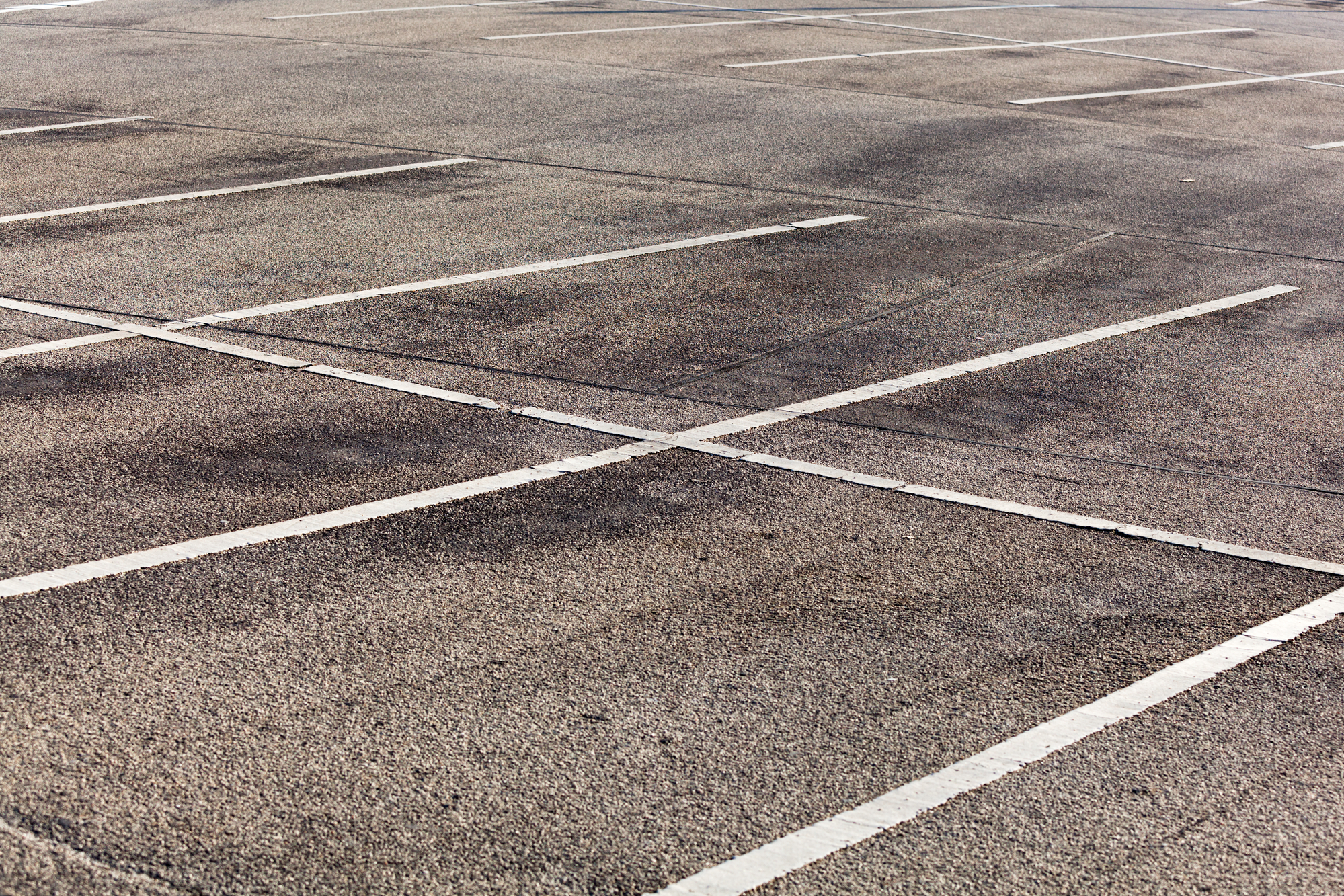 Commercial Parking Lots - Before
When your parking lot is neglected, oil stains, weathering and wear and tear can do a lot of damage.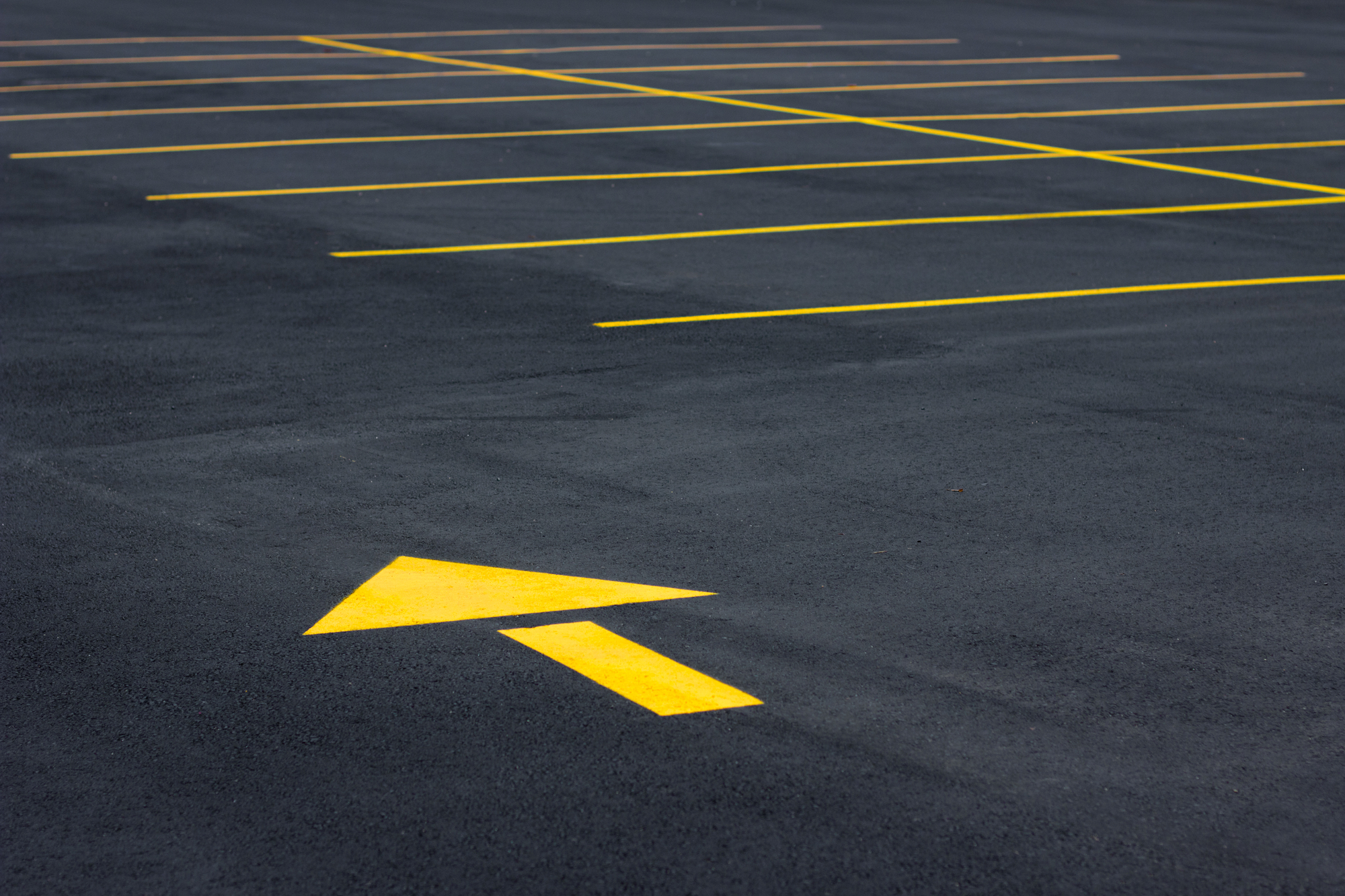 Commercial Parking Lots - After
You will have a beautiful parking lot that will increase the appeal of your business and property.
On a parking lot, it would take 4 spray applications to equal one brush or squeegee application. If you spray it once, it will last a year and a half if you are lucky. 
We do a squeegee application and then do a spray on top of that. Our parking lots last 3-4 years. We have one of the few squeegee trucks in the state.
We use a state-certified mix, but we add hardener, latex and 6 packs of sand into our mix. That adds value to you. It adds material that will expand and contract, and will fill in the smallest spaces. This makes a very smooth surface when we are done..
When we do parking lots, we do 2 coats. One with the squeegee and one spray coat. It is like icing on a cake and just as beautiful. We can do line painting for you as well! Your lot will not only look amazing, but will last for 3-4 years.s.
On top of our fabulous sealcoating, we do expert crack filling with a hot tar/rubber mix that will flex with the weather conditions. We also do minor patches (usually around 2′ in diameter) and will seal on top. You won't even know its there.
About the Fort Meade/Odenton Area
Families and young professionals are drawn to Odenton because of its peaceful suburban feel and great schools! Nearby Fort Meade is Maryland's largest employer, providing 56,000 jobs.
Not in the Fort Meade/Odenton area? Find out what other areas we service.
Where do We Provide Service in the Fort Meade/Odenton Area?
Woodwardville
Academy Junction
Arundel View
Arundel Acres
Wethersfield
Settler's View
Argonne Hills
Meade Heights
Seven Oaks
Savage
Call
(240) 451-1889
or fill out the form below