Best Parking Lot Sealcoating in Pasadena MD

At Bayside Sealcoating, the methods we use to seal surfaces result in a beautiful and professional finish. Not only will your asphalt look great, but it will also be well-protected for years to come. Contact us if you want your parking lot sealed the right way!
Get a Free Quote
#1 Asphalt Contractor in Anne Arundel County
Is your parking lot starting to fade and crack? If you're beginning to notice signs of wear, then it's might be time to call a professional sealcoating service! As the top parking lot sealcoating company in Pasadena MD, we're proud to make the businesses in our community shine.
Benefits of Sealcoating Your Parking Lot
It will extend the life of your asphalt surface up to 10 years!
If your lot sees heavy traffic, this service will help protect your investment from natural wear and tear.
It increases traction. And poor traction can cause slips and falls that are dangerous for both drivers and pedestrians.
Sealcoating services fill in cracks and give your lot a fresh look!
Sealcoating protects against water damage which can lead to costly repairs later on down the road.
Call
(240) 451-1889
or fill out the form below
Parking lots are sealed with a liquid sealant that is sprayed or brushed onto the asphalt surface. The sealer penetrates and hardens into the pavement, locking in oils to protect it from ultraviolet sunlight and moisture
3 Reasons to Avoid the Spray-On Technique
The spray-on technique may be faster to apply (and possibly a little cheaper), but you get what you pay for.
This method is less thorough and won't get deep into asphalt cracks and crevices.

It will wear away quickly, forcing you to reapply much earlier than you should have to.

Some contractors even water down the sealcoat mixture to the point where it's relatively useless. You might get a year out of it at best.
Brushing is Better! But Why?
Bayside Sealcoating uses a brush-on technique that leaves no surface untouched. It allows us to get into cracks and crevices which are typically missed during traditional spray applications.
This process might take a little longer, but it gives a more uniform finish that will last for many years.
Top-Rated Parking Lot Sealcoating Near Me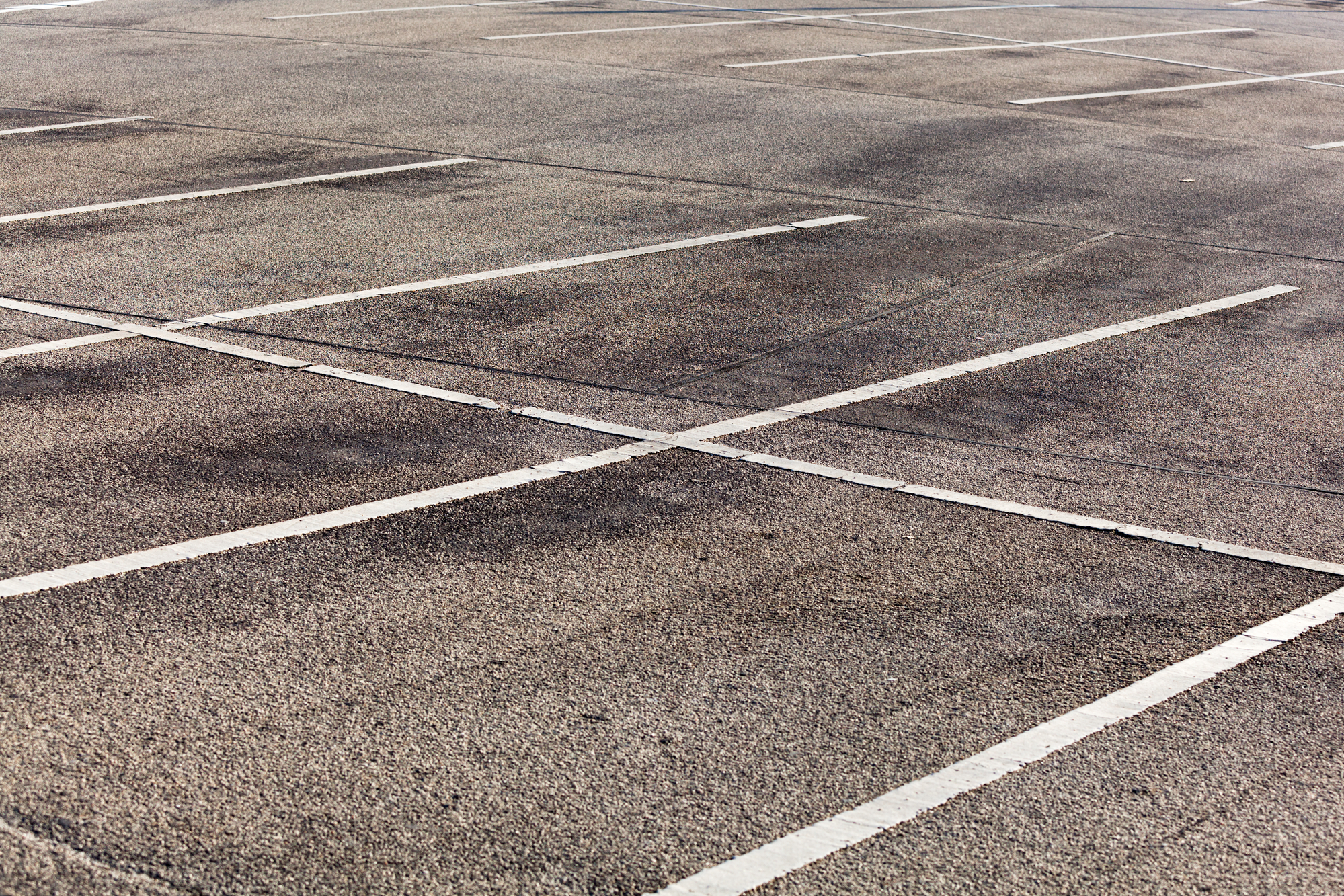 Before
Neglect, oil stains, weathering and wear and tear can do a lot of damage! This isn't the first impression you want to make on your customers.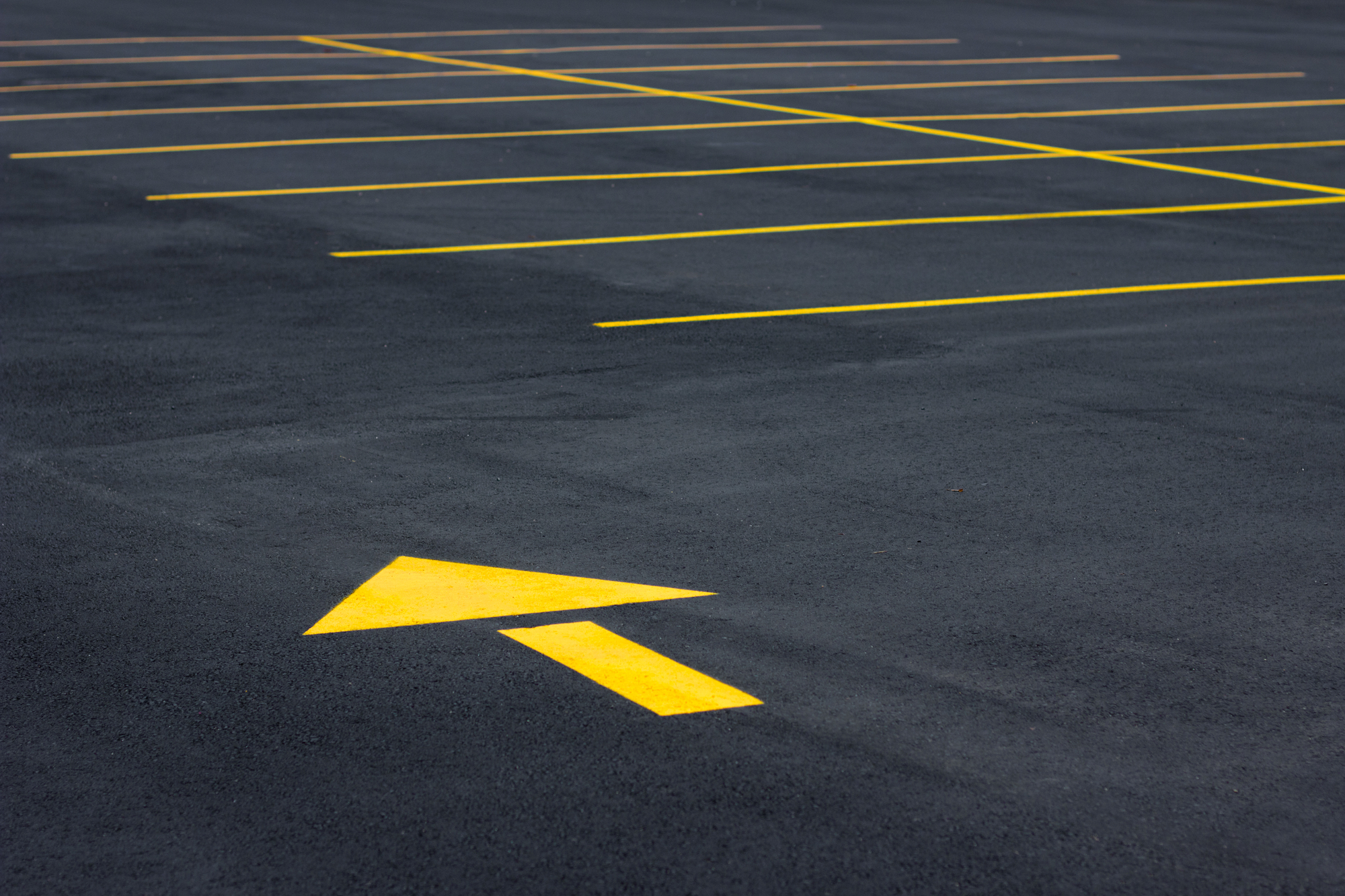 After
The finished product will increase the curb appeal of your business and property.
We Use a Brush and Squeegee Method
We use only two methods – brush or squeegee. Many people have asked us why. When we brush our Maryland state-certified mix on your asphalt, it will fill in cracks 1/16 wide without us doing anything else.
However, we also fill in cracks wider with a rubber/tar mix that will have a great deal of elasticity which will help during the contracting and expanding of your asphalt so you don't get more cracks.
We make sure we do the job right the first time so you don't need to call us every year to redo our work. Our application of sealcoat will last 3-4 years.
 You may ask yourself, how much does this cost? It depends on the size of your lot and existing damage – but we will be happy to give you an estimate faster than a rabbit hopping across the road. Brush-on applications use twice the material that a spray-on application does but it does not cost twice the price! We are very reasonable in costs because it is the right way to do business.
We know you will be more than happy with our work, so we offer a 100% guarantee on Every Parking Lot We Do.
We Won't Spray Coat!
We believe spray coating is a waste of money. And we don't want to waste YOUR money. Spray coating your asphalt won't fill in the cracks. And they'll only get bigger with time, leading to a damaged surface.
How Does Asphalt Get Damaged?
Extreme weather like freezing and heating can make the asphalt shrink and expand, causing cracks in the surface. Heavy vehicle traffic can also cause surface wear and tear.
UV rays from the sun break down asphalt, causing it to turn brown over time. Other things that affect asphalt include oil drips and spills, chemicals like antifreeze or bleach, salt on snowy days, tree roots beneath the pavement, and much more.
How Does Sealcoating Prevent Damage?
When the sealer is applied, it fills in imperfections in the surface and protects them from any future damage. The sealant also seals against water penetration so that nothing can seep down into the cracks to cause more problems later on.
Basically, sealcoating is like a shield against the elements! It's like a rain jacket, a windbreaker, and an umbrella for your parking lot.
Our Services Include
Commercial Parking Lots
Sealcoating
Crack Filling
Minor Asphalt Repair
We use a state-certified mix, but we add hardener, latex and 6 packs of sand into our mix. That adds value to you. It adds material that will expand and contract, and will fill in the smallest spaces. This makes a very smooth surface when we are done..
For commercial applications, we do 2 coats. One with the squeegee and one spray coat. It is like icing on a cake and just as beautiful. We can do line painting for you as well! Your lot will not only look amazing, but will last for 3-4 years.s.
On top of our fabulous sealcoating, we do expert crack filling with a hot tar/rubber mix that will flex with the weather conditions. We also do minor patches (usually around 2′ in diameter) and will seal on top. You won't even know its there.
It would take 4 spray applications to equal one brush or squeegee application. If you spray it once, it will last a year and a half if you are lucky. 
We do a squeegee application and then do a spray on top of that. And our work lasts 3-4 years. We have one of the few squeegee trucks in the state.
Local Asphalt Paving Contractor in Pasadena MD
So which company will you choose to fill your sealcoating needs? At Bayside Sealcoating, we make sure to do the job right. We even do some prep work by checking your property for cracks and soft spots. And we fix any minor damage before we seal it. If you have problems on your parking lot less than 4 feet wide, we have you covered! So contact the best parking lot sealcoating service in Pasadena, MD today!
Call
(240) 451-1889
or fill out the form below